Men's Grooming Services
Price List
Treatment Menu Price List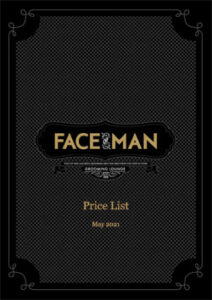 Download our Treatment Pricing Menu
(current as at June 2021 – 10mb pdf)
Gift cards will not be exchanged for cash or a refund.
Gift cards cannot be redeemed for skin care products.
Gift cards cannot be used in conjunction with other promotions.
Gift cards cannot be used with other complimentary coupons, such as our $25 First Time Client coupon.
All gift cards purchased after 1pm will be mailed out the following day. Please note this is not next day delivery guaranteed.
There is a $7 charge for postage.
Gift cards cannot be cancelled.
Gift cards are transferable.
We do honour all gift cards after the six months' expiration, but these treatments can only happen between Monday and Friday, 9am to 3pm.
100% of the value will be deducted for not showing up to booked appointment.
Appointments made under a gift card cannot be cancelled within 48 hours of the scheduled appointment time.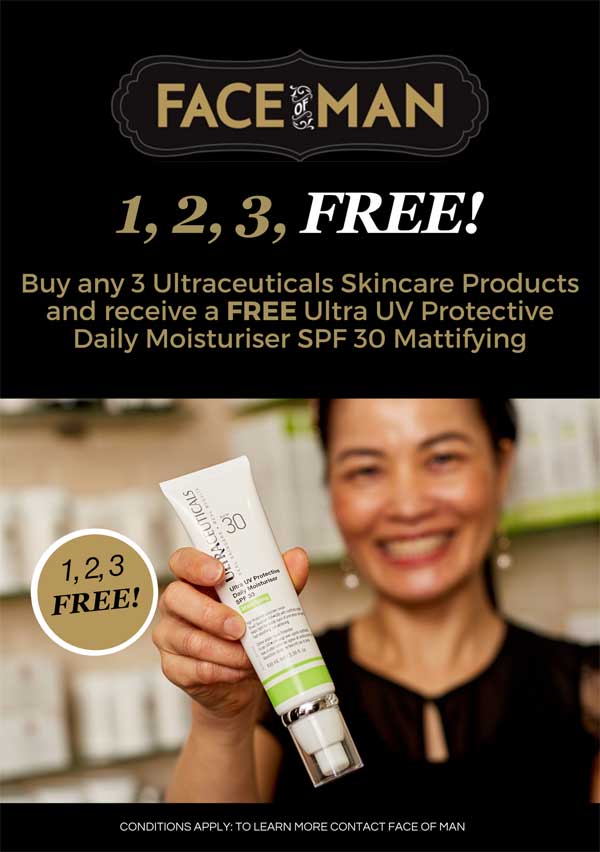 Protect and mattify your skin every day with broad spectrum sun protection combined with a boost of moisture. Our best-selling non-whitening shine-free formula is fast absorbing and lightweight. Suitable for oily/normal skin types.

View this month's 1,2,3, FREE! offer.
We've been our client's #1 Men's Grooming Lounge in Sydney for over 40 years. We are welcoming new clients with these introductory package offers (save $$).
what our Grooming clients are saying...
Stella is very friendly and knowledgeable. Highly recommended
Everyone I have referred Face Of Man too has had a great experience. Highly recommend 👌 First time. Excellent experience. Calming and friendly from entry to exit. Highly recommended.
I bought my friend a gift voucher from Face Of Man.
I'm so pleased I did.
He loved it.
Not only did he love the roll out the red carpet

...

royal treatment feel....but he loved the knowledge that his therapist was able to pass onto him.
He is now more confident to keep up with his home care.
Highly recommend 🏆

read more Such a great experience! Stella was fantastic and shared a lot of tips to help me dealing with my skin on a regular basis. Great afternoon and can't

...

wait to come back to have another session!

read more
Bought a gift certificate for my husband for his birthday. He was nervous but pleasantly surprised he could look and feel so good. Thank you Face Of

...

Man.

read more Professional and experienced.Best in Sydney
Getting Positive Reviews and followers is the best way to attract your customers and compete with businesses .

You can get high quality

...

reviews on Facebook, Google Listing/business, Yellow Pages, Tripadvisor, Yelp and Trustpilot at Affordable Rates.

If you are interested in Positive Reviews, Get in touch by sending us a message on facebook.com/buysocialreviews or Simply Search "Social Reviews INC."

Thanks - Social Reviews Inc

read more Ready to be groomed for your greatness?