We are thrilled to announce the arrival of a brand new addition to the Face of Man grooming salon experience. Located on Level 2, 131 York St Sydney, step into the world of Face of Grooming, where exceptional grooming experiences come to life. Face of Grooming is a timeless and traditional men's Barber Shop offering a range of services that elevate your personal style and inspire confidence to take on the day with your head held high.
Meet Shaf, Face of Grooming Head Barber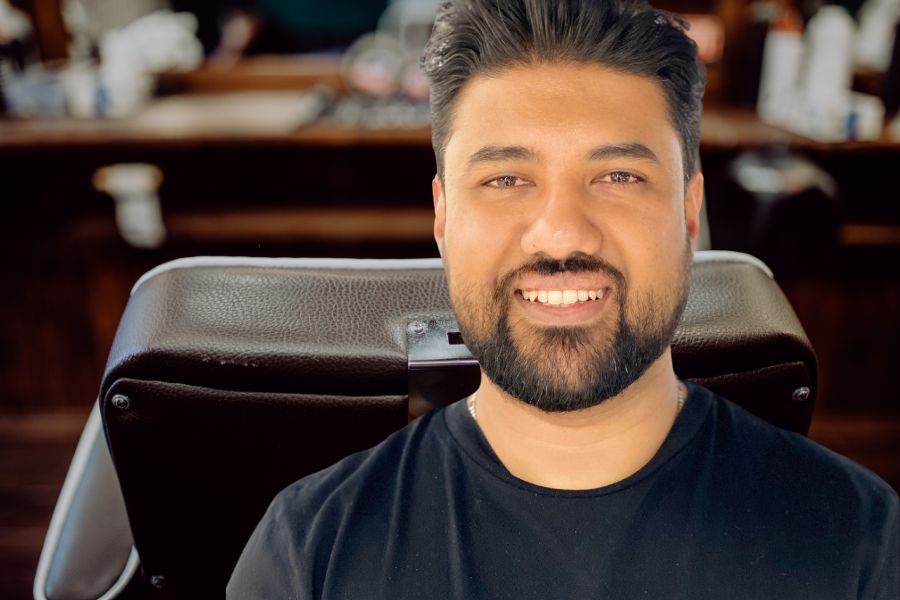 At the forefront of our team is Shafeel, our lead barber, formerly of Chifley Barbers in the CBD. Known affectionately as 'Shaf,' he stands as one of Sydney's most skilled barbers.
Now, as the head of our Face of Grooming suite, Shaf brings his unparalleled expertise to curate a grooming experience that goes beyond expectations.
Sydney Barber Shop Services
Embark on a grooming journey that transcends the ordinary with our curated selection of premium barber services. At Face of Grooming, we take pride in offering a range of meticulously crafted experiences designed to elevate your personal style and enhance your overall grooming routine. Explore the artistry and precision behind each service:
Style Cuts: Rediscover your individuality with our style cuts, where skilled hands sculpt and shape your hair to reflect your unique personality and preferences.
Fades: Experience the artistry of precision fading, a barbering technique that seamlessly blends contemporary trends with timeless charm, resulting in a polished and modern aesthetic.
Crew Cuts: Embrace a harmonious fusion of modern trends and classic allure with our expertly executed crew cuts tailored to suit your distinctive taste.
Beard Trims: Perfectly groomed facial hair is an art form. Trust our expert barbers to shape and refine your beard, achieving a look that complements your style.
Hot Towel Shaves: Immerse yourself in the luxury of our hot towel shaves, a rejuvenating experience that combines thorough attention to detail with a touch of pampering.
Shoeshines: Perfect for busy professionals on a work break—pair the finesse of a sharp haircut with our meticulous shoeshines. Renew your footwear swiftly for a polished look that complements your professional style, ensuring you return to work refreshed but impeccably groomed.
At Face of Grooming, each service is a testament to our commitment to excellence and personalised care. Step into our sanctuary of grooming, where every detail is crafted with precision, and every visit is an opportunity to indulge in the art of self-care.
View Our Barber Shop Services.
Hear From Shaf's Clients
"Great place for a haircut. Super skilled, no fuss, great vibe & very professional. The place for a cut in central Sydney."

Gerard B
"Not just a barber. The team as a collective are talented. They understand hair. They understood me as the client and all my hair anxieties. It is very rare to find a good male hairdresser who has the talent. You'll find it here. They take the time to understand the brief and style the cut to your preference and comfort. I wouldn't review a barber unless I thought they were that good. This barber won't disappoint. <3"

Luke Hart
"Amazing service and detail with every haircut. Yet to experience a single bad haircut after visiting for over a year, with every cut being consistent and of the highest quality. They take precision to a new level with every single blade of hair cut with excellence."

Michael Ursino
"Chifley Barber is a professional, high-quality barber, and I've been going there for many years. Ask for my man Shaf, he'll look after you."

David Elliot
How to Book
Face of Grooming is not just a barber; it's a destination where your grooming journey reaches new heights under Shaf's expert care.
Book an appointment online for your next trim with Shaf and his team.