Men's Grooming Services
Price List
Treatment Menu Price List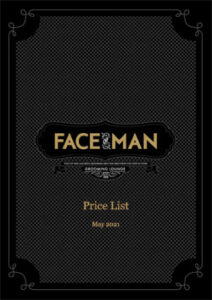 Updated Treatment Pricing Menu Coming Soon!


We have recently updated our cancellation policy to better assist with the constant juggling act of life. We hope it will also help with the disappointment of clients not being able to get in, encourage communication and give our team the opportunity to action our wait list, giving other clients enough notice so they can come in for treatment.
Thank you for your understanding. For any questions regarding our new policy or your upcoming appointment, please contact our team.
Our cancellation policy has changed from 48 hours to 24 hours. This is our ideal notice period. If you cancel within 12 hours of your appointment, the following will now apply:
You will be given one 'get out of jail free' card should you no-show or cancel/reschedule within the 12 hours of your appointment.
If you commit the crime again, following will apply:
You will need to prepay for your next appointment.
If you give us less than 12 hours notice or no-show a second time, a 50% payment will be taken off this prepayment.
If you no-show/cancel with less than 12 hours notice a third time, you will forfeit 100% of your prepayment and you need to prepay for your remaining appointments for the following 6 months.
This also applies if using a Gift Card or if you are on of prepaid Course of treatments, you will lose one of your Course treatments.
If you are Covid-19 positive and therefore cannot make your appointment, a screenshot from NSW Health and/or Positive PCR reading is required and the above will be waived. Please note: Rapid Antigen Test results will not be accepted.
Any treatment over $500 requires a 50% deposit regardless of booking history.
Thank you
Please see our Terms of Service including Cancellation Policy
The

45th Birthday

Bundle

To say thank you, and to celebrate our 45th Birthday, we are treating you to all of your favourites!

Book The 45th Birthday Bundle and you will also receive an Ultraceuticals SPF50 to take home! Limited Availability.


We've been our client's #1 Men's Grooming Lounge in Sydney for over 45 years. We are welcoming new clients with these introductory package offers (save $$).
what our Grooming clients are saying...
Amazing experience, highly recommended.
Incredible staff and overall service. Would come back again and again!
Wonderful clinic. Welcomed with whiskey, delightful and professional staff and excellent result. Highly recommended,Note, the new venue in York

...

Street is excellent.

read more
Was an amazing time, first time doing anything like this and the service was impeccable, would easily recommend to anyone.
I felt a little unsure when I walked into the temporary location on King St as it did not have the same vibe as the old location on George St. The

...

George st venue had an amazing atmosphere. I loved it. The style, decor, designed for men to feel comfortable.However the service is still great and professional. I'm looking forward to the new unveiling bigger plans for FOM.

read more
Grace is great. Very knowledgeable, personable and skilled. I had no hesitation in making a follow up booking to keep me looking good. Thanks guys.

...

Cheers. Lester.

read more
Grace was very helpful with explaining all the different treatments and was a great help with starting my skin improvement journey
Practitioner was very gentle, sensitive to my needs, provided ongoing consultation throughout the session which I felt was very helpful and had

...

exceptional customer service. Highly recommend her for services ongoing. Feeling fantastic

read more
Ready to be groomed for your greatness?