Men's Grooming Services Sydney
Treatment Areas and Bootcamps
At Face of Man, we are leaders in advanced skin therapies and have a  comprehensive selection of treatment options to help you on your journey to healthy skin.
We take the guesswork out of choosing a treatment and provide support and guidance with each step of the way.
We recommend beginning your journey at The Starting Point. The Starting Point is your introduction to skincare and will include a comprehensive analysis of your skin. From here, you'll embark on your next exciting step – Skin Correction. We offer four levels of Skin Correction – Energise, Strengthening, Correct and Transform  – your Therapist will help you select the best one for you.
Make Face of Man Your happy Place
I've discovered my new favourite place in Sydney. Went to Face of Man last Thursday and had the best experience. Cassandra made my day, so knowledgeable, professional and with the magic touch! Excited to go back!! Thanks guys, you're awesome!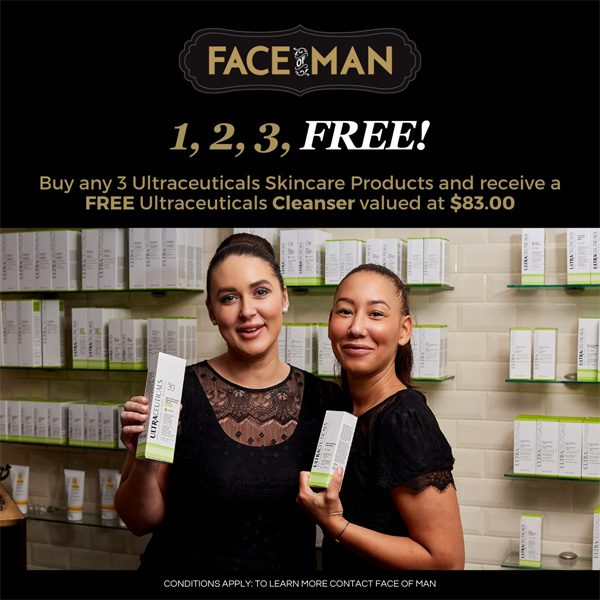 Wash away the daily grime with the very best in skincare. Deeply cleanse your skin and pores and soothe and hydrate your skin at the same time with Ultraceuticals. Enjoy an Ultraceuticals Cleanser valued at $83 when you purchase 3 Ultraceuticals Skincare products.

View this month's 1,2,3, FREE! offer.
Ready to be groomed for your greatness?