A desire to turn back time or achieve definition around the face is not just reserved for women.
Ageing does not discriminate, and as we age there is very little we can do to diminish the appearance of those noticeable tell-tale signs. We can maintain a rigorous skincare routine to nourish our skin, but what about gravity?
If your jawline is not as chiselled as it once was or if you have been donning facial hair to mask jowls, a double chin or 'turkey neck' and the evidence of years gone by, it's time to get acquainted with our latest treatment, Ultraformer. It's time to restore your youthful appearance and your confidence.
Ultraformer, The Non-Surgical Lift for Men
Ultraformer is a revolutionary advanced treatment, designed to lift, tighten, and sculpt without the need for invasive surgeries.
This completely non-invasive face and neck lifting treatment for men uses MMFU technology (Micro and Macro Focused Ultrasound ). This treatment can completely define, contour, slim and sculpt your face, neck and body by targeting layers beneath.
Gone are the days of hiding behind your beard to cover a sagging jawline or double chin. In fact, this treatment can target more than the lower face and neck to restore elasticity and structure. Ultraformer can also be used on the face to target fine lines and wrinkles, the undereye area and nasolabial folds (the lines from your nose to corners of your lips). It helps to support the regeneration of collagen and elasticity to effectively diminish the signs of ageing while shaping and remodelling to achieve your desired look.
How Does Ultraformer Work?
Without affecting unintended areas or layers of tissue during treatment, MMFU-powered cartridges focus accurate beams of ultrasound energy into target areas of skin tissue for lifting and tightening the face, and subcutaneous fat layers to induce contractions and disposal of stubborn fat cells from the body – farewell, double chin!
The technology delivers waves of energy to just below the skin's surface, targeting dermis layers with thermal energy. This safely heats up tissues, stimulating collagen production and promotes a long-term tightening effect. The firming and tightening results will continue to develop over time as the new collagen is produced, which will continue to progress for up to six months.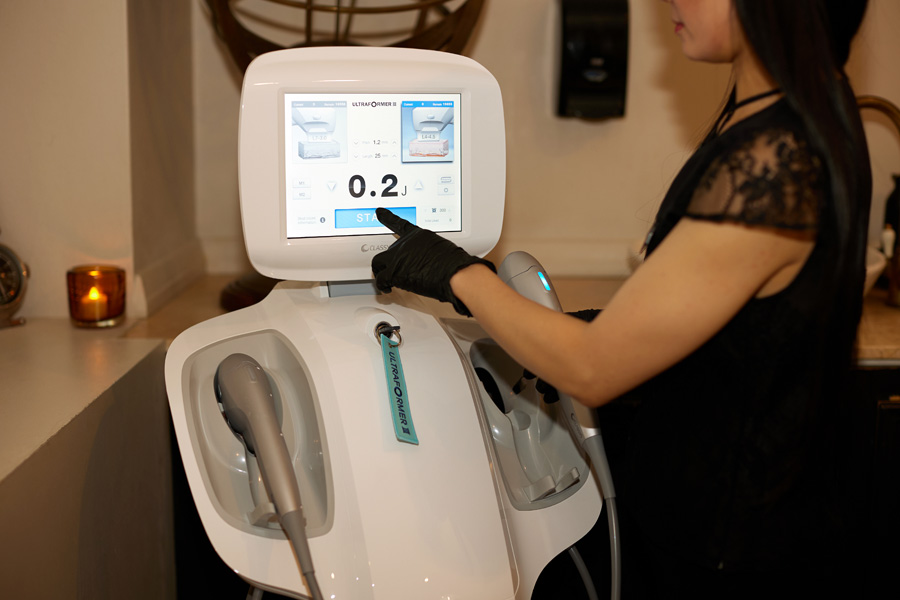 What to expect with this Non-Surgical Treatment?
Each Ultraformer Treatment will be tailored to treat your unique concerns and achieve your desired outcome. That said, each treatment will vary.
The length of the treatment will vary depending on what area is being treated. When scheduling in for a face and neck tightening and lift procedure, we ask that you allow for 45-60 minutes.
The treatment is non-invasive and requires minimal social downtime. Discomfort experienced throughout the treatment will vary based on each individual and their threshold though there is no lingering discomfort once the treatment is complete.
Immediately after treatment is completed, you should expect minor swelling and redness. Some clients have felt numb or tingling sensations, this is normal and will subside within a few hours. This treatment will ultimately give you that non-surgical facelift you've longed for without the needles and downtime, and you can return to your regular routine right away. You can even hit the pub for a pint on the way out!
Skin tightening
Sculpting jawline
Face Contouring
Non-Surgical Facelift
Anti-ageing
Neck wrinkles
Wrinkle reduction/Softening
We recommend this treatment to anyone
with soft tissue laxity, wrinkles, and sagging skin.
You no longer need to hide away under that comfort blanket beard of yours. The Ultraformer is here to form that sexy jawline and get back to glory days. Ultraformer is coming to Face of Man this month and will officially launch in May.
Learn More About Our Ultraformer Treatments
The Ultraformer is here to sculpt your lower face into a sharp, sexy work of art and bring your back to your younger days! Learn more.
Book in for an Ultraformer treatment today at Face of Man,